Through gale force winds, workshops, and festivities, SheClimbs provided a supportive community for participants to access their limitless potential.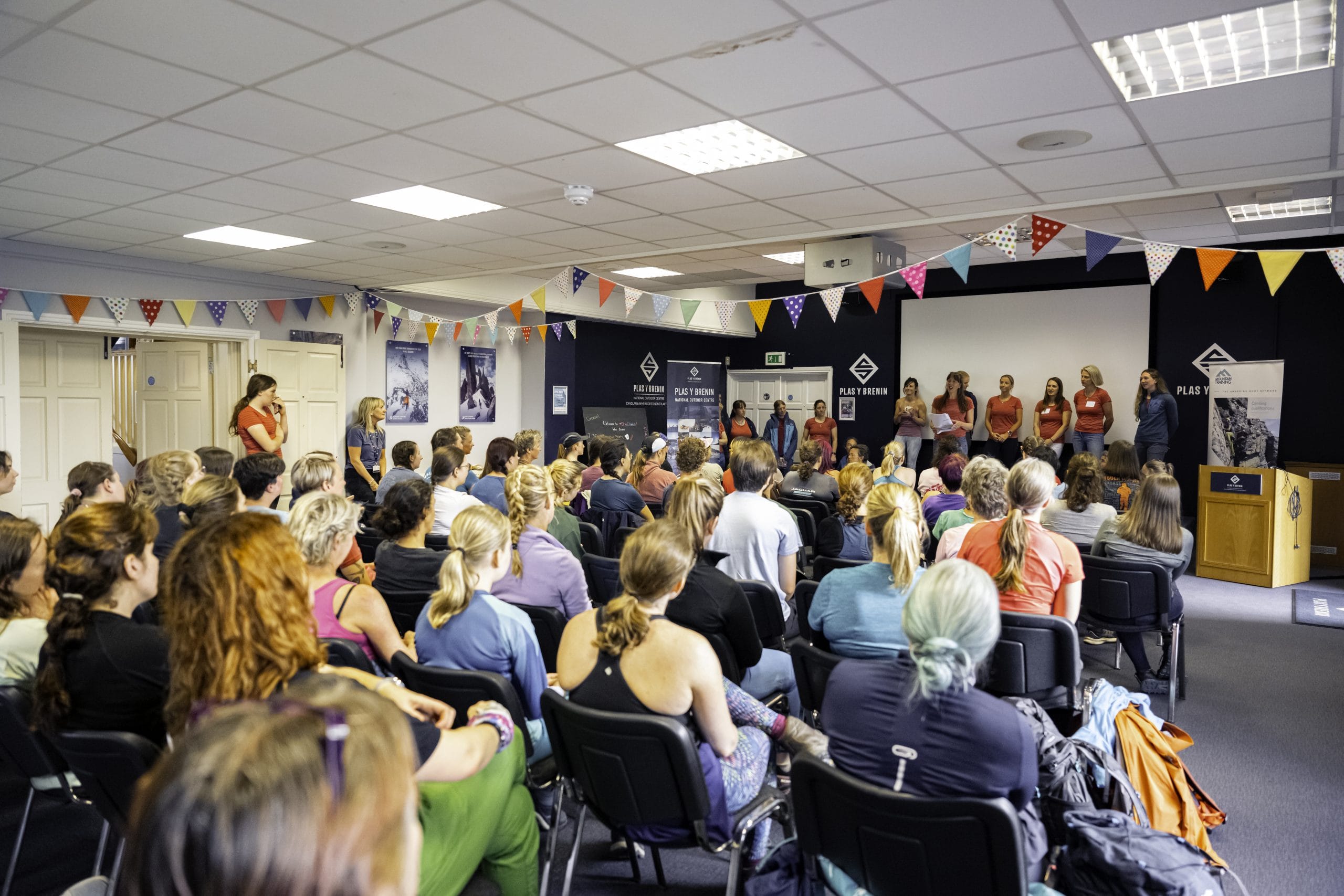 WMCI Emma Warren introduces instructors on Saturday morning ahead of workshops. Photo: Phil Hay
Bedecked with bunting and packed with skilled instructors, Plas y Brenin opened our doors to 65 women for the first SheClimbs Festival in our history. 
Plas y Brenin Instructor and Winter Mountaineering and Climbing Instructor (WMCI) Emma Warren opened the weekend on Friday evening with a rousing get-to-know-you Bingo in the bar. Over half of participants arrived solo, setting a tone of sociability and courage that shone throughout the weekend in various workshops and activities. 
As the building awoke on Saturday morning, a gale pounded Capel Curig. Overnight winds exceeded 50 mph and heavy rain doused the grounds. Local rivers swelled and local rock faces certainly did not present optimal opportunities for friction. Nevertheless, the instructors carefully selected climbing venues suited for the conditions and the women of SheClimbs donned waterproofs for the day. The participants rose to the challenge.
As it turned out, the day held some of the most fun and interesting workshops of the weekend! Indoor to Outdoor Climbing Workshop headed to bottom-rope on a wavy piece of rock called Craig Y Tonnau, where they reviewed belaying, tying in, and climbing commands before getting stuck into climbing. Meanwhile, the Introduction to Sea Cliff Climbing headed to Crinkle Crag on the coast.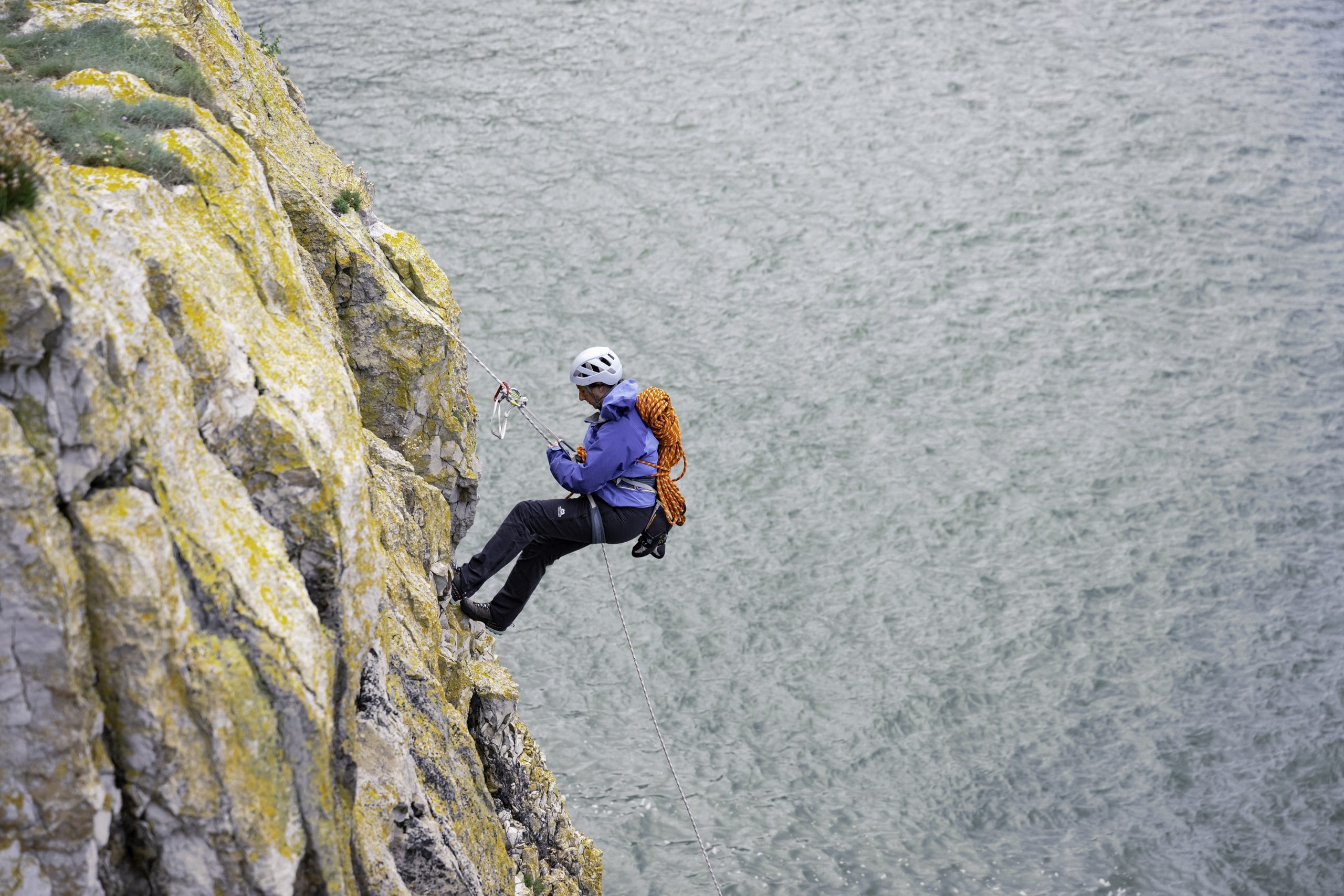 SheClimbs participants abseils into a climb on Crinkle Crag. Photo: Phil Hay
Introduction to Climbing headed to Lion Rock to try their hands at moving on rock and learn how to keep each other safe. Mentored by Libby Peter and recent MCI Emma Kershaw, scramblers dispersed into the wet and rainy Ogwen Valley while Learn to Lead and Multi Pitch Climbing Workshops took to Tryfan Bach to practice placing gear, belay transitions, and more. One participant was heard saying she would rather be out climbing in the rain on Tryfan Bach than on a warm beach with a cold beverage! Mental Training with coaches Danielle Griffith and Juliet Scott and Movement Workshops with Emma Twyford and Dave Evans stayed dry in the climbing wall while Improvised Rescue took to the canopy, using in situ bolts to learn ascending a rope among other things. 
As the evening dried out, each workshop trickled back into Plas y Brenin for tea and cake with a browse around the Brand Meet and Greet with colleagues from Mountain Equipment, Scarpa, Deuter, Joe Brown Shops, Cotswold Outdoors, Ogwen Valley Mountain Rescue, Mountain Training, and Petzl. It was an opportunity to try on and discuss gear, build connections, and meet the athletes.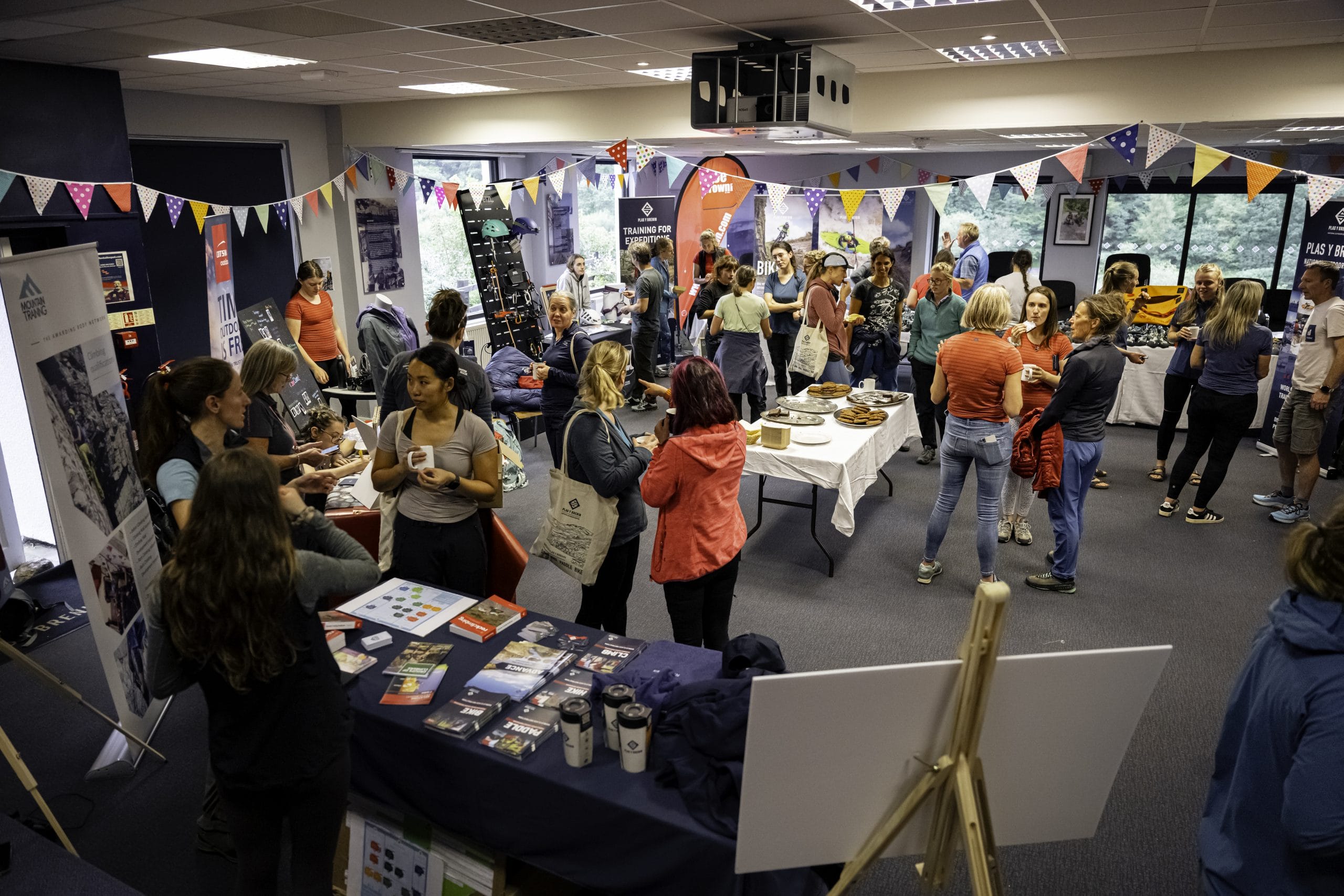 Mingling at the Brand Meet and Greet with tea and cake. Photo: Phil Hay
After dinner, folks flooded into the lecture hall for a raffle benefiting the Mountain Adventure Fund (MAF). The MAF funds young people without financial resources to get onto outdoor courses here at Plas y Brenin. We were successful in raising over £500 for the Mountain Adventure Fund, which will fund two participants for a week long course. Prizes included a hut stay from the Pinnacle Club, coffee from our friends at Tiki Tonga Coffee and Caban Cyf, Scarpa climbing shoes, a Deuter backpack, a Mountain Equipment sleeping bag, and a Plas y Brenin private instruction day.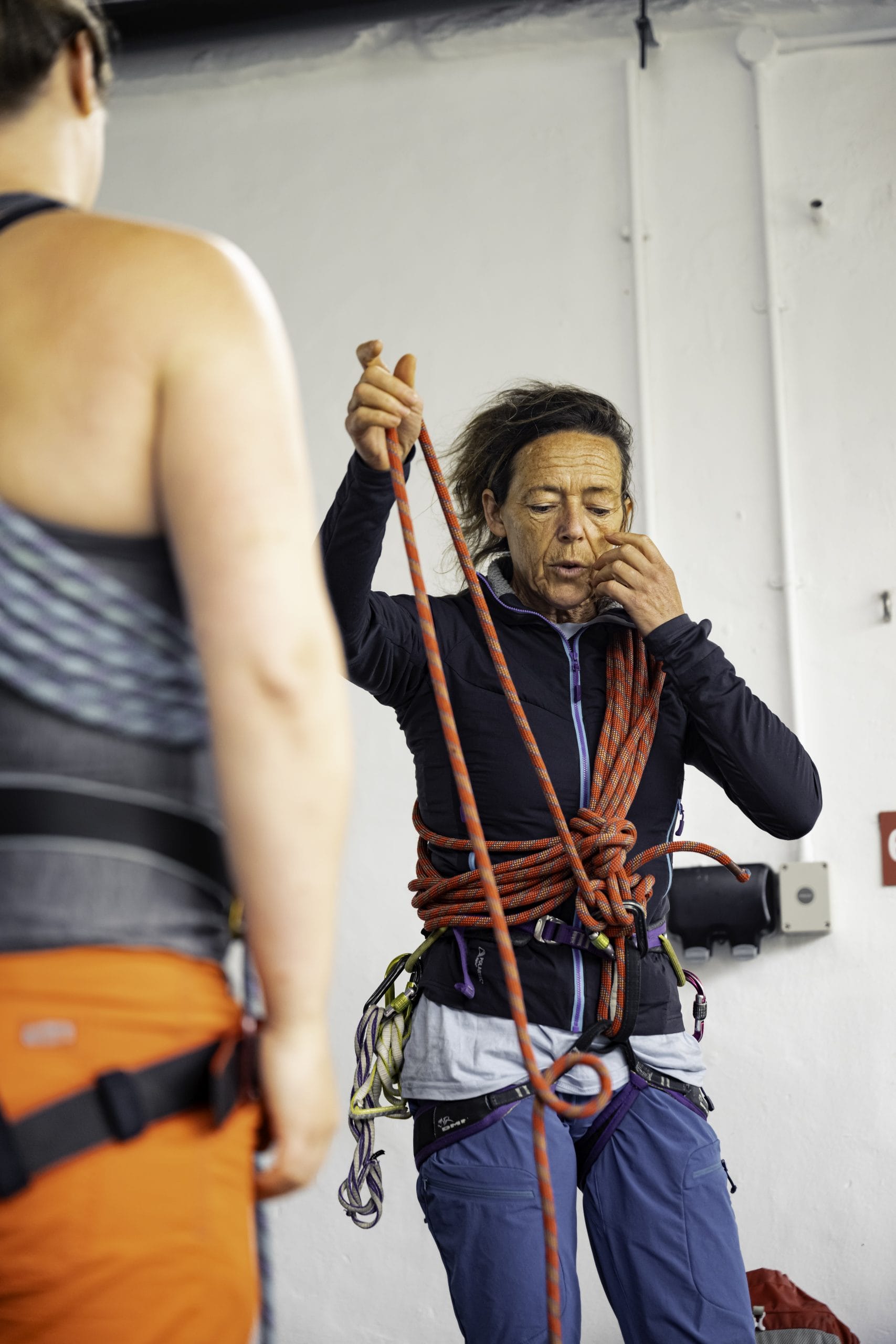 Climbing legend Libby Peter demonstrates a mountaineer's coil during her scrambling workshop. Photo: Phil Hay
The buzz in the room only grew when Carole Feldman and Cat Forster took to the stage to share about their journeys to becoming Mountaineering and Climbing Instructors (MCI). The MCI is an esteemed award that demonstrates competence in complex summer mountain environments. It is accredited by Mountain Training and gains its holders access to the Association of Mountaineering Instructors (AMI). Cat described the bond she and Carol made working hard to attain their qualification; ''These friendships that you make when you're really pushing yourself they become really really important and they stay with you.''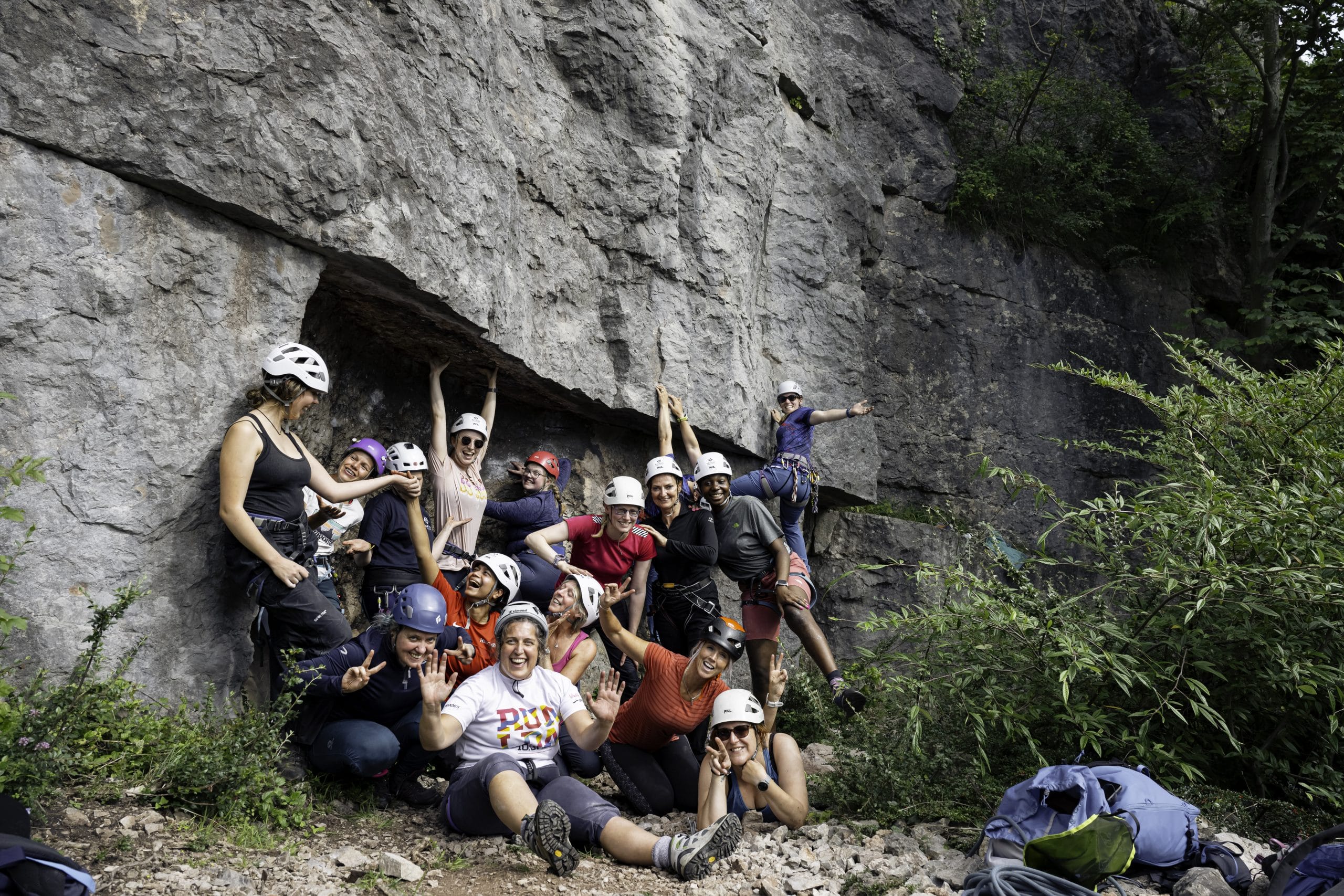 Introduction to Climbing workshop making bonds and pushing themselves. Photo: Phil Hay
Saturday evening continued on with a Q&A with climber Rachel Pearce, who since 2019 has improved one E-grade per year (an astonishing rate of change for any climber). She challenged us to climb for the love of it rather than to meet expectations. Chasing grades or working to impress people with your clout, she argued, were not sustainable approaches to climbing. Her remarkable journey was based on her love of challenge and adventure. Find what you love, she suggested, and do it.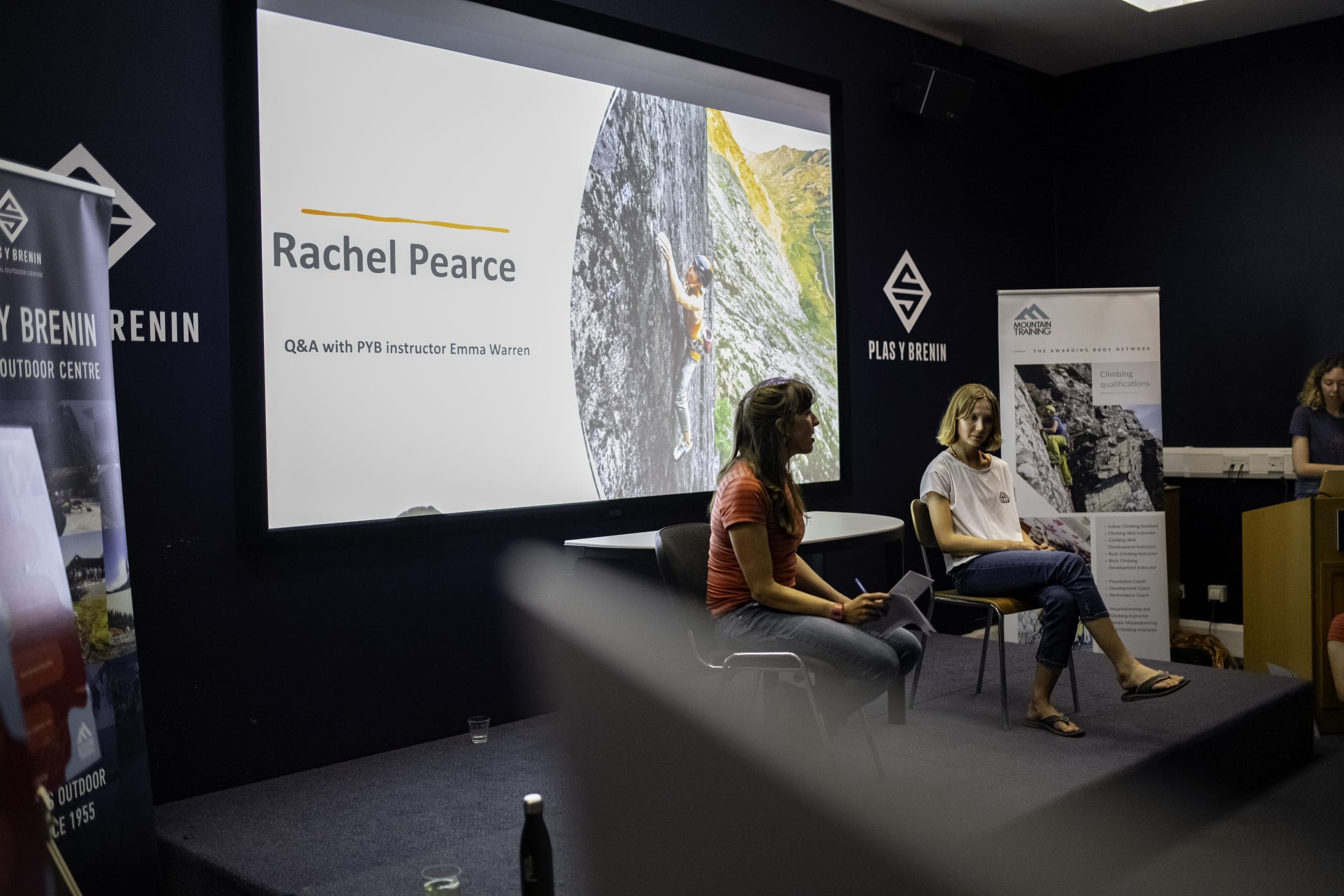 WMCI Emma Warren interviews Rachel Pearce at Plas y Brenin. Photo: Phil Hay
If you have ever gotten in a fight with a crack climb, Harriet Ridley's talk on her journey to crack climbing was an eye opening instruction in humbling yourself to the task. She presented the 10 steps to crack climbing, #1 being: protect your hands! Photos of red sandstone in Indian Creek and sparkling quartz crystals in the Alps certainly inspired even the reluctant in the crowd. 
The final event of the evening solidified a lasting sense of inspiration as we watched Emma Powell ascend 'Guardians of the Underworld'. At 22, she is the first British woman to climb a D12 route. It was thrilling to watch as she cut her feet and swung on precariously delicate moves, working her way upward by wrapping her foot around her arm to bring her center of gravity closer to the wall. 
Thoroughly knackered and content, participants drifted to bed in preparation for another day of learning, improvement, and connecting over climbing.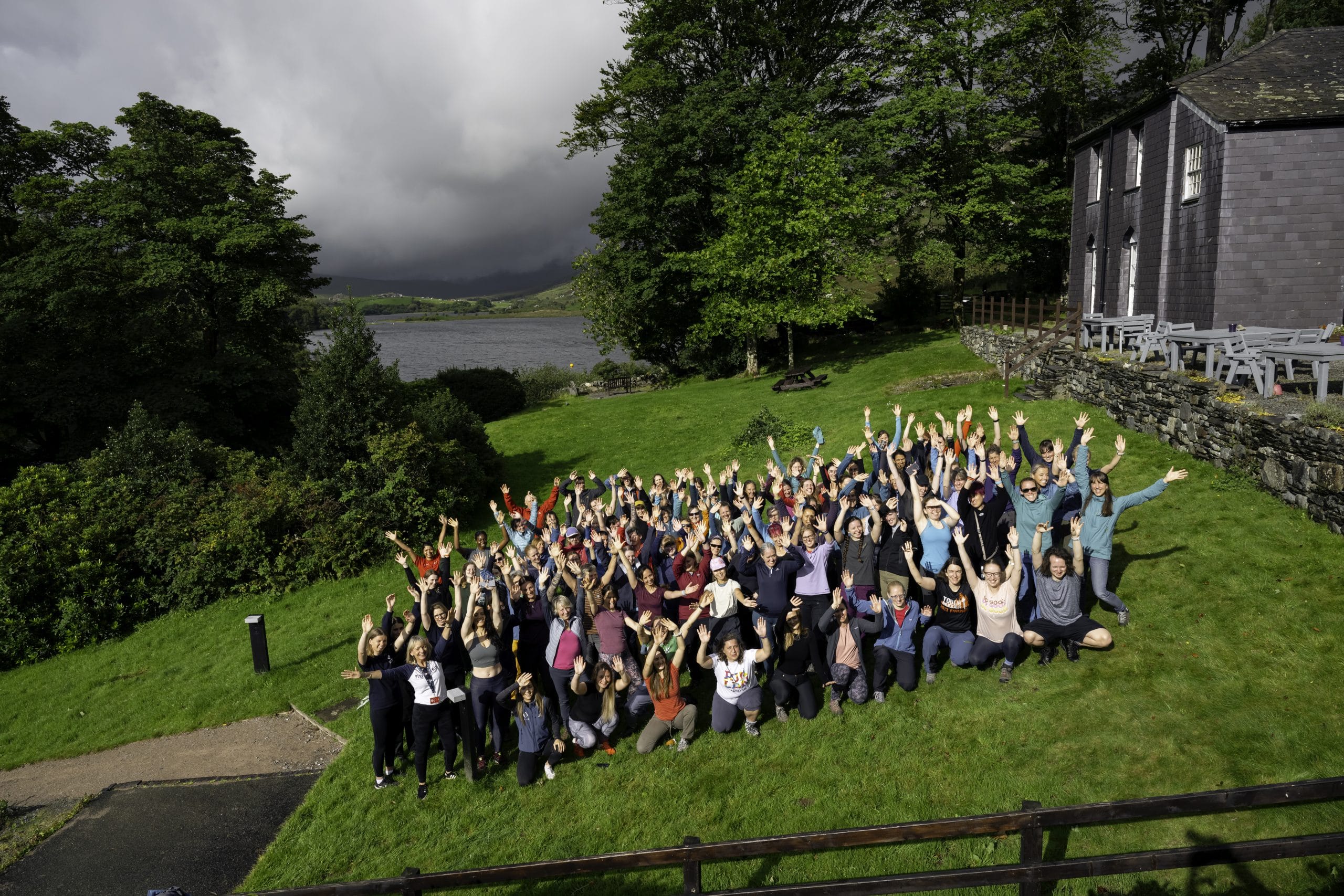 The SheClimbs 2023 Community. Photo: Phil Hay
By Sunday evening, it wasn't just climbing skills that had grown; friendships, confidence, and the spark for adventure had taken seed somewhere between workshops, shared meals, and good conversations. The challenge now is to nurture those seeds in the mixed soil of the larger climbing world, but as Emma Warren reminded us in her opening talk, 
''If you can see it, you can be it.'' And this weekend, we could see it.
REGISTER YOUR INTEREST FOR NEXT YEAR: SheClimbs 2024 (jotform.com)
Words by Sadie Sarvis, Plas y Brenin Content Creator and lover of all things climbing